Design Tips for Cast Molding
Cast molding is one of the oldest and most common manufacturing processes utilized in various industries. The versatility of cast molding makes it a good choice for many products and components where design flexibility and performance may be essential. In particular, cast molding with thermoset polyurethanes can offer product designers the ability to specify almost any shape, size, or form through several types of manufacturing processes. Because of this, there are a few distinct design guidelines to consider when cast molding with thermoset polyurethanes. In this post, we will share five design tips to achieve optimal results.
1.

Consider Wall Thickness
Similar to Reaction Injection Molding (RIM), cast molding makes it possible to vary wall thickness throughout the part. However, a uniform wall thickness is preferred to allow the liquid materials to set and solidify uniformly. Excessive variations in wall thickness and thin wall features may lead to air entrapment, tearing, or poor surface finishes. The recommended range of wall thickness should be at least .050" thick. Note, the larger the part, the larger the wall should be to ensure proper support. In addition, variations from thick to thin walls should also be as gradual as possible.


2.

Parting Lines
Parting lines are developed in areas where a curve in the part is present. Excess material or flash is often present on parting lines which can affect the overall shape and dimensions. The more complex or contours the shape features, the more parting lines will appear. In ideal conditions, a straight profile should be considered to reduce the number of parting lines. If this is not possible, secondary operations may be required to deflash the parting line by hand or machine the part to size to meet exact design specifications.

3.

Avoid Undercuts
Sharp angles, cavities, or recessed areas in your part where alignment is not perpendicular to the mold's parting line will create undercuts. Typically, these design flaws can lead to air traps which may result in bubbles or voids left on the molded part. In addition, undercuts can present challenges when demolding the part in whole from a one-piece mold. The recommended solution is to avoid undercuts as much as possible or include fillet radii in your design to allow the air in the mold to escape and for easier demolding.
4.

Size Matters
The size of the part will often determine the appropriate cast molding technique. Typically, small to medium size parts can be cast molded by hand, while large parts may require an automated process to prevent any weak spots such as bubbles, flow lines, or swirls, to name a few. To avoid these imperfections, the recommended solution is to discuss your project requirements early in the development stage with your polyurethane manufacturer to plan accordingly.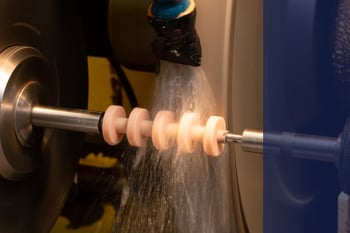 5.

Know your Surface Finish
Cast molding can accommodate a variety of molded textures and surface finishes, usually dependent on the material. For instance, solids and most foams can mimic almost any molded texture or machined surface. Depending on the function of your product design, a machined surface may be ideal, particularly for foams, to unveil a different set of physical properties, such as Coefficient of Friction (COF). The part's function or application should drive the ideal material and surface finish.
Incorporating these 5 design tips can help you eliminate any potential defects when developing your cast molded part. If you have questions regarding your product design, feel free to contact us, here, and let one of our polyurethane experts help bring your cast molded design to life!