Metal chemistry, while diverse does not offer product designers the flexibility to specify multiple physical properties, instead limiting the options and becoming very costly to manufacture. If you are looking for a material that weighs less, easier to handle, generates far less noise, and can typically outlast some metals by up to three times more in many conditions - then thermoset polyurethane is your answer! To learn more about thermoset polyurethane and how it can meet the most demanding performance requirements, click here.
Polyurethane Benefits
Thermoset polyurethanes can offer significant advantages over metal, including: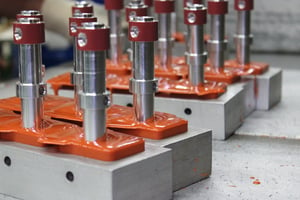 Quieter operations; as metal generates noise while polyurethane absorbs it
Polyurethanes are lighter weight, making it easier to handle and operate
Ideal combination of abrasion

and wear resistance in corrosive environments

Polyurethanes can be semi-conductive

for electrostatic dissipation or transferring a charge

Cheaper to manufacture, without the need for welding, machining,

or other expensive processes
If you are seeking manufacturing assistance, contact us, here, or download our material data sheets, below, to further explore the superior properties our Durethane Technologies can offer your product design!