Polyurethane versus Rubber
Rubbers are a family of polymeric materials based on the chemistry of natural rubber latex. While there are many synthetic rubbers in the market, they share a basic chemical composition with natural rubbers. Rubber is a cost-effective solution for many applications, but its physical properties often prevent superior performance. Unlike rubber, polyurethane offers higher load-bearing capacity, better compression set, and superior tolerance to greases, oils, oxygen, and ozone. Because rubber is biodegradable, it tends to rot and degrade over time with exposure to the elements. But, man-made polyurethane can be easily formulated to outlast rubber and stand up to sunlight and outdoor environments.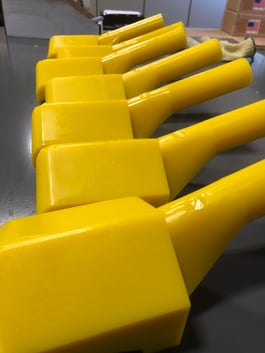 Benefits of Thermoset Polyurethanes
Thermoset polyurethanes display much better physical properties than rubber, including:
Higher load-bearing capacity and improved compression set

Superior abrasion, cut, and tear resistance

Better tolerance to greases, oils, oxygen, and ozone

Longer life, especially in outdoor or extreme environments

Harder durometer ranges without sacrificing performance
Still intrigued how thermoset polyurethane compares to other known materials? Download our material data sheets to explore the superior properties our Durethane® Technologies can offer your product design.