Polyurethanes for Fitness & Recreation Applications
Polyurethanes have become increasingly popular over traditional materials like metals and rubbers, especially for the fitness and recreational industry. Due to their unique chemistry, polyurethanes offer an extensive selection of customizable materials and manufacturing processes to meet precise performance and design requirements. To demonstrate this, here are a few examples of how thermoset polyurethanes were creatively used to improve product performance in fitness & recreation applications.
Inline Speed Wheels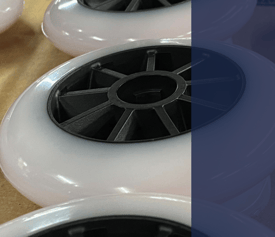 The Problem: A world leader in inline skating equipment turned to MPC to develop a new product line of speed wheels for professional skaters. Their existing wheels exhibited low wear and rebound resistance, which did not meet the stringent requirements of professional speed skaters. As a result, the customer needed their new product line of speed wheels to provide the fastest and best skating experience on various road surfaces for extended periods.
The Solution: MPC developed a custom product with a dual-layer composition wheel using our proprietary Durethane S technologies. This concept enabled MPC to provide one material to improve wear and another material to improve speed for optimal performance.
The Result: By partnering with MPC Wheels, our products enabled the OEM to successfully launch their new product line on time and exceed their projected revenue expectations.
Pilates Reformer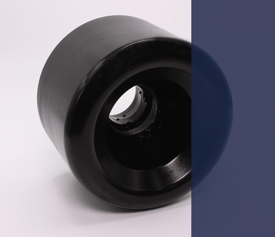 The Problem: A global manufacturer of Pilate reformers was experiencing a high volume of field failures. Their current line featured undercarriage casters made from rubber, which presented accelerated wear and flat spotting. The recurring mechanical failures led to an increased number of service calls and customer returns.
The Solution: Together with the OEM's engineering team, MPC's R&D group developed a custom-formulated Durethane S material with enhanced abrasion resistance and compression set.
The Result: The OEM was able to replace multiple parts with our custom-formulated technologies. As a result, they saw a decrease in service calls, spare parts, and downtime. Moreover, the customer was able to retain its customers and increase its gross margin.
Stepper Handlebar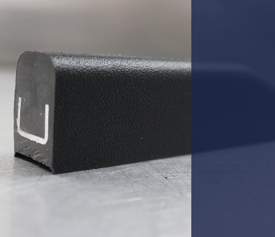 The Problem: An OEM of fitness equipment turned to MPC to meet demanding timelines for their new high-end stepper machines. This new product line consisted of two custom handlebars with specific design and aesthetic requirements. The OEM required a partner that could provide prototypes to assure quality and fit and quickly ramp up production to meet their anticipated launch date.
The Solution: Through our product development process, MPC provided an 80A flexible foam over-molded onto a metal subcomponent and textured surface finish. Our flexible prototyping process enabled the customer to support MPC's R&D efforts to quickly ramp up to meet production demand.
The Result: MPC provided a completed product that met the customer's overall design and performance requirements. This enabled the OEM to successfully launch its new product line on time and within budget.
Conclusion
Thermoset polyurethanes can play a vital role in a wide range of fitness & recreational applications from various gym equipment, to skating, and hiking to name a few. When determining a material, it is important to consider your product's key physical properties, environmental conditions, and aesthetic requirements to achieve optimal performance. If you are seeking material assistance for your product design, complete our design tool, here, or download our material data sheet below: