Thermoforming vs Reaction Injection Molding (RIM)
When it comes to custom molded products and components, there are several manufacturing processes to choose from. Whether it is between thermoforming or reaction injection molding (RIM), each process has its own set of benefits to improve your design idea. So, which process is right for you? In this post, we will compare the differences between thermoforming and RIM and showcase a list of benefits to help narrow down a favorable process that best fits your exact design needs.

What is Thermoforming?

Thermoforming is a type of manufacturing process often characterized by two main types - vacuum forming and pressure forming. Both processes utilize thermoplastic sheets to press specific shapes against a male or female mold to achieve the desired shape. Thermoplastics, such as acrylonitrile butadiene styrene (ABS), PVC, acrylic, and polyethylene are commonly used materials. In general, vacuum forming combines a heat and suction technique, while pressure forming combines heat and compression. The heat and pressure used during the molding process help soften the material to easily take the shape of the mold surface. Depending on the specific process, thermoforming can take on most shapes, patterns, and textures. Additional design features such as inserts or ribbing require secondary operations. Thermoformed parts are often found in consumer and food packaging industries but may also be used in a wide range of applications. While thermoforming may be adaptable to various types of products, this process has several design limitations when compared to Reaction Injection Molding (RIM). Generally, RIM is preferred over thermoforming due to its superior physical properties and design freedom for large, intricate geometries.

Understanding Reaction Injection Molding (RIM)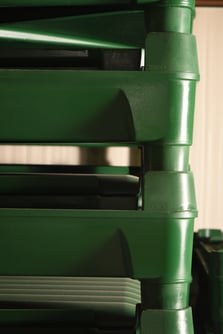 Unlike thermoforming, reaction injection molding (RIM) is used in combination with thermosets and never with thermoplastics. Thermoset polyurethanes, in particular, allow for a two-part liquid system to chemically react in a closed mold rather than a heating and forming process around a mold. While both processes are suitable for large parts, RIM offers greater design freedom, material options, and robust properties, especially for intricate geometries. Due to the urethane's flexible chemical structure, RIM polyurethanes can produce rigid, elastomeric, and foam products at various hardnesses. Other key features RIM is known for, include significant wall thicknesses, molded-in ribbing, encapsulated inserts, and unique surface finishes. For this reason, RIM is preferred for structural parts, enclosures, and housings typically found in medical, automobiles, and military & defense applications. For more design advantages RIM can offer your product design, click here.
Thermoforming vs Reaction Injection Molding
| | |
| --- | --- |
| Benefits of Thermoforming | Benefits of Reaction Injection Molding |
| Variable wall thicknesses and inserts can typically be achieved through secondary bonding operations | Significant wall thickness variations and encapsulated inserts are molded in to reduce production time & costs |
| Depending on the mold's surface finish, thermoformed parts can achieve various details and texture | Several surface finishes are available through a painted & textured process - i.e. silk screening, sandblasting, polishing, etching |
| Various gauge thermoplastic sheets are formed and can be melted & reused | Thermoset materials offer greater robust properties & can be made rigid, elastomeric, or foam |
| Small to large volumes are achievable, depending on part complexity & design requirements | Small to large volumes are achievable, especially for large, intricate parts |
Conclusion
While there are some advantages and disadvantages to consider between each process, thermoforming and Reaction Injection Molding both offer a unique set of benefits. Depending on design requirements, the process should be determined by part complexity, material requirements, and overall investments needed to efficiently achieve exact design needs and volumes. To further explore if RIM is best for your product design, complete our design tool, here, or download our data sheet, below, to access the different types of materials available.