Structural foam is a term used to describe a wide range of materials with a microcellular structure. These highly moldable materials are typically formed through a unique foaming process and classified as strong, durable, and extremely lightweight. For this reason, structural foams are not solid materials but instead consist of a honeycomb or foam inner core surrounded by a solid outer crust or layer – similar to the structure of stale bread or swiss cheese.

What is Structural Foam Made of?
Structural foams can be found in many materials that can attain a cellular core and rigid skin – like the examples pictured. In the case of plastics, there are two types of structural foams called thermosets and thermoplastics. Thermoplastics, such as nylon, Acrylonitrile Butadiene Styrene (ABS), and Polypropylene (PP), are commonly formed by frothing a liquified material with inert gas during a classic injection molding process. Thermosets, on the other hand, such as polyurethanes, are produced by the chemical reaction of polyols and diisocyanates. Thermoset polyurethanes can often be transformed from a solid to foam by introducing blowing agents during a Reaction Injection Molding (RIM) process. Sometimes, additives may be used to tailor the physical properties of the urethane to meet specific design and performance requirements. For this reason, thermosets are often highly favored over thermoplastics for their design freedom and customizable properties for improved performance.
Structural Foam Molding Process
There are several manufacturing methods to produce structural foam products, such as injection molding and Reaction Injection Molding (RIM). When compared between the two, RIM is used in combination with thermosets and never with thermoplastics. While both processes are suitable for large, rigid products and components, RIM typically offers greater design freedom, material options, and robust physical properties, especially for both small and large production runs. Other key features RIM is known for, include significant wall thicknesses, molded-in ribbing, encapsulated inserts, and unique surface finishes. To learn more about the design benefits RIM can offer your structural foam product design, click here.
How to Use Structural Foam in Your Product Design
The primary use for structural foams is enclosures or cabinetries for applications that often demand high-end aesthetics and rigid yet lightweight properties. Below, is an example of how structural foams were creatively used in a dialysis machine to achieve exact design and performance requirements.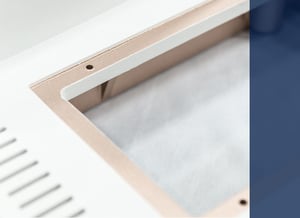 The Problem: A multinational medical device OEM turned to MPC to develop enclosures to protect their system and enhance the product's aesthetics. Their new product line of high-end dialysis machines consisted of many delicate electronic parts, which also required electromagnetic interference (EMI) shielding to assure optimal performance.

The Solution: Through our RIM process, MPC manufactured a lightweight, 70D structural foam housing with encapsulated inserts and screen-printed details. To meet performance requirements, MPC applied a specialized EMI-shielding paint to the inside of the enclosures.

The Result: MPC was able to offer a complete painted finish that meets the customer's aesthetic requirements, including EMI shielding. This enabled the OEM to successfully grow their dialysis business, especially during the COVID 19 pandemic, which has driven increased demand. By partnering with MPC, we were able to scale up for production during this healthcare crisis.
If you find structural foam is a key material requirement in your product design, this can easily be tailored by your RIM thermoset polyurethane manufacturer. For material assistance, complete our design tool, here, or click the button below to start your custom polyurethane design idea.