Bonding is a critical process in manufacturing, especially when a product or subcomponent requires a secure grip between two or more materials. While there are several bonding methods to consider, a chemically bonded process generally offers far greater reinforcement, design flexibility, and overall improved performance. In this post, we will discuss the benefits of bonding with thermoset polyurethanes and provide insight to help you in your product design process.

How to Bond Thermoset Polyurethanes to Other Materials
When it comes to cast or Reaction Injection Molded (RIM) products, thermoset polyurethanes are commonly used for their two-part liquid system and customizable properties. There are two basic bonding methods to ensure a successful grip between polyurethanes and other materials, chemical bonds and adhesives. A chemical bond can naturally develop during the chemical reaction in a molding process. This method is considered ideal for materials that feature compatible chemistries and manufacturing processes. Materials that do not feature compatible chemistries will require the use of an adhesive to assure a proper bond. With the right surface preparation and proper adhesive, superior quality and strength can be achieved to meet a product's specification.
Advantages of Bonding Polyurethanes to Other Materials
Bonded materials are generally used in products that face extreme stress or environmental conditions, such as wheels, rollers, or bumpers. At MPC, we often bond thermoset polyurethanes to a wide range of materials including metals, plastics, and rubber for improved performance and durability. Below are a few examples to demonstrate the benefits of thermoset polyurethanes bonded to other materials.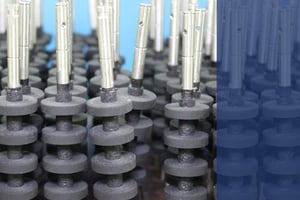 Polyurethane & Metal
With the help of adhesives, thermoset polyurethanes can virtually bond to any type of metal for long-lasting performance. In most cases, the urethane will wear overtime before the bond ever breaks in operation. For this reason, paper & media handling applications typically require bonded rollers to ensure the urethane remains put, even at high-rotating speeds.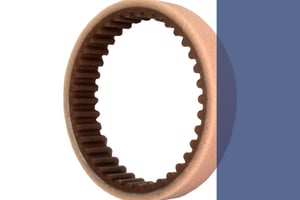 Polyurethane & Polyurethane
Multi-layer constructions are commonly designed to perform different tasks at once. Bonding with thermoset polyurethanes, in particular, offers a unique combination no other materials can achieve alone. For instance, this multi-layer component features a solid layer bonded to an open cell foam. Both materials combined create excellent abrasion resistance, Coefficient of Friction (COF), & self-cleaning properties.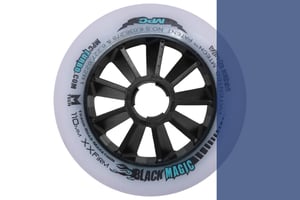 Polyurethane & Plastic
There are various types of plastics to choose from. As previously mentioned, compatible plastics can eliminate the need for adhesives when bonding to thermoset polyurethanes. Take our inline speed skating wheels, for instance. This high-performance wheel features a thermoplastic hub. The chemistry of the hub is compatible with our materials to form a natural chemical bond.
Conclusion
Whether it's through a chemical bond or adhesives, thermoset polyurethanes can virtually bond to anything! When determining the appropriate bond for your product design, it is important to consider your product's function and environmental conditions. To further explore if thermoset polyurethane is a good fit for your product design, complete our design tool, here, or download Durethane material data sheets below.