Polyurethanes for Paper & Media Handling Devices
Paper & media handling applications are vital components of today's society - from performing self-service transactions, billing payments, to digital printing & imaging. Because of this, product designers continually seek out innovative materials, such as thermoset polyurethanes, to meet precise performance and quality requirements. Unlike traditional plastics, the versatility of thermoset polyurethane chemistry enables product designers to solve challenging design problems. Below, are a few examples of how thermoset polyurethanes were creatively used to improve the performance of paper & media handling products.
Collection Belt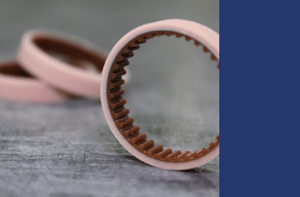 The Problem: A global OEM was experiencing a high volume of field failures in a document collection unit. The existing mechanism was designed with several rubber components, each performing different tasks. The recurring mechanical failures presented extreme wear and tear precipitated by contact with oils. Customer frustration put a key account at risk, and high service costs were driving margins down.

The Solution: Together with the OEM, MPC developed a multi-layer belt with two different hardnesses and coefficient of friction (COF) on each side, including a third layer for reinforcement. With its design, MPC was able to combine the functions of the rubber tires and timing belts into a single component.

The Result: The OEM was able to replace multiple parts with our customized belt, saving an estimated $9M per year in service calls, downtime, and spare parts. Moreover, the customer was able to retain the account at risk.
Paper Transport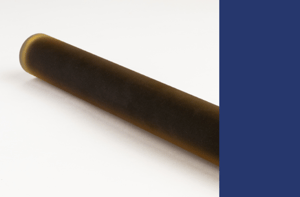 The Problem: A global OEM returned to MPC to develop rollers that included demanding material specifications. Their new product line of high-speed printing presses consisted of powdered toner, which emitted particles during the printing process. Because of this, the product required a higher Coefficient of Friction (COF) to guide the paper smoothly out the device. Moreover, the material needed to be highly conductive to pick up the remaining toner particles to produce high-quality prints.
The Solution: MPC developed a custom formulated Durethane® C technology that provided a specific blend of COF and conductivity through its rapid prototyping process. This flexibility enabled the OEM to support MPC's R&D efforts to quickly ramp up to production demand.
The Result: MPC's custom-formulated Durethane® C technology met demanding properties that improved the system's overall performance. As a result, the OEM successfully entered a new market with less maintenance.
Kiosk Enclosure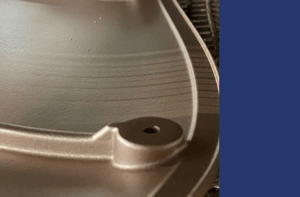 The Problem: A global OEM of ATMs & self-service kiosks returned to MPC to develop enclosures to protect their high-end kiosk systems. Their new product line designed for retail environments featured a custom surface finish and many electrical components. In combination with painting, EMI shielding was necessary to avoid any electromagnetic interferences and mechanical malfunctions during use.
The Solution: MPC manufactured high-density 70D structural foam enclosures through a Reaction Injection Molding (RIM) process. To meet performance requirements, MPC applied a specialized EMI-shielding paint to the inside enclosures before finalizing the part's surface finish with a specific color and texture to match the system's aesthetic requirements.
The Result: MPC was able to provide a completed product that met the customer's overall design and quality requirements, including EMI shielding. This enabled the OEM to successfully market their new product line and grow their self-service kiosk business around the world.
Printing Plates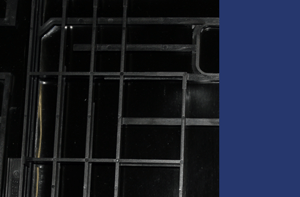 The Problem: A global OEM of commercial packaging turned to MPC to improve their printing quality and reduce downtime. The existing device featured rubber printing plates to transfer detailed imagery on corrugated boxes at high speeds. The results showed uneven image transfer and at times streaking, obstructing the brand's image. This led to customer frustration and significant downtime to attain additional printing plates.
The Solution: To eliminate the printing deformities and improve downtime, MPC proposed a Durethane S solid 65A elastomer. This material featured high abrasion resistance and resiliency that extended the printing plate's wear life.
The Result: MPC provided printing plates that allowed the OEM to produce high-quality results longer on corrugated packaging. The proposed elastomeric material increased machine uptime and saved the customer on repair costs.
Conclusion
Thermoset polyurethanes can play a vital role in a wide range of paper & media handling applications from ATMs, printers, and self-service kiosks to name a few. When determining a material, it is important to consider your product's key physical properties, environmental conditions, and aesthetic requirements to achieve optimal performance. If you are seeking material assistance for your product design, complete our design tool, here, or download our material data sheet below: